The wiring harness industry is experiencing rapid increase in demand due to factors such as electrification, the Internet of Things (IoT), and Industry 4.0. All these drive a need for increased functionality, which means a higher demand for power and data connections in modern appliances, products, and vehicles. As a result, the wire harness market is growing rapidly. Transparency Market Research forecasts a wire harness market of $200 billion by 2031. Productivity of wiring harness manufacture is a critical issue.
The challenge caused by electrification
Wire harness manufacturing methods use manual processes both in making the harnesses and installing them in the final product. The complexity and flexibility of harnesses has made automation of the whole process impossible. For this reason, original equipment manufacturers (OEMs) often source their wire harnesses from areas with skilled workforces and lower labour rates – like eastern Europe and central America. However, demand is stretching the ability to supply and the pressure to improve productivity means that wire harness automation is becoming vital in overcoming the challenges facing OEMs and suppliers in the automotive, aerospace, and other industries, including:
Availability and productivity of workforce
The increased number and variety of electrical functions, from sensors to motors
The demand for mass customisation
The uncertainty and risk in lengthy supply chains
The challenges of inflation.
These challenges demand a new approach. Methods like laser direct structuring (LDS), printed circuit boards, and large-area flexible conductors have already offered hope for more efficient wire harness production. However, these methods have limited applications and don't automate the entire production process.
The Q5D approach
Q5D has developed an entirely new approach to wire harness automation which lays down conductive tracks or wires on parts of appliances and vehicles, thus integrating the wire harness with the product. Both harness manufacture and final assembly can be automated as a result. This revolutionary approach has the potential to deliver significant benefits.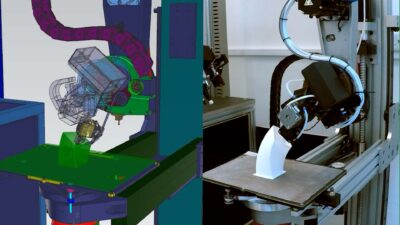 Q5D has adapted CAD/CAM principles from subtractive manufacturing and applied them to adding conductive materials. This approach means that designs can be translated into products with specific tool paths specified.
This is a hybrid additive manufacturing approach.  Parts made by traditional methods such as casting, moulding or additive, with complex surface shapes in metal, ceramic or polymer, are loaded into the manufacturing cell and have polymer features, wires and components added to them. Anything from a hand-drill to a car door can be electrically functionalised.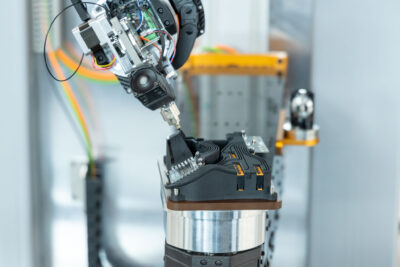 Each robotic manufacturing cell can use a variety of end effectors. These interchangeable tools deliver different processes; adding polymers; placing pre-made components; laying down insulated wires; embedding bare wires into polymer substrates; creating laser sintered conductive tracks (coming soon).
Designers are given the ability to precisely specify where components and conductors should be. Production is automated straight from the design created.
The first all digital, fully automated manufacturing approach for adding power or data electrical functions to products.