Robot for automating wiring harness manufacturing boosts productivity by up to 3X
Bristol, UK, 25th April 2023 – Q5D, a manufacturer of wire harness automation equipment for additive manufacturing, has launched its first product, the CY1000.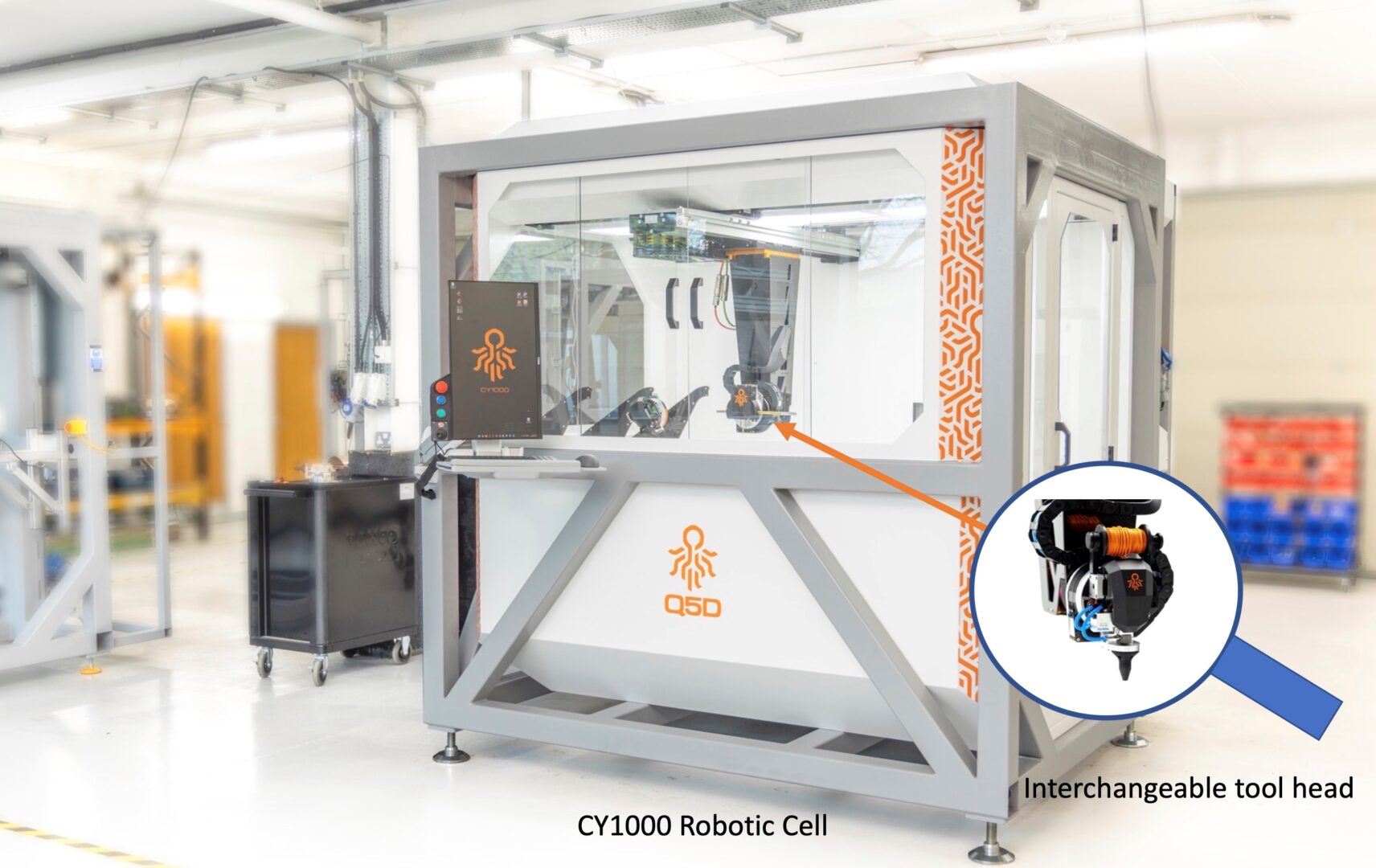 The CY1000 features interchangeable heads for a variety of functions including 5-axis additive manufacturing for wiring and polymers.
The 5-axis CNC additive manufacturing robotic cell solves the most challenging automation issue: how to automate the addition of electrical connections in increasingly complex products.
Traditional wiring harnesses are heavy, space-hungry, and costly. By contrast, the CY1000 automatically, economically, and securely adds components, connections, and conductors into products or components made of metal, ceramic, or polymer. The company calls its unique process 'Electrical Function Integration'. It eliminates the need for separate, expensive, fault-prone wiring harnesses, minimizes design constraints, improves reliability, and cut costs. It can also secure and simplify supply chains by removing dependence upon labour. The self-contained CY1000 manufacturing cell means that wiring can be co-located with the final assembly, eliminating the costly transportation of heavy harnesses.
The CY1000 has a robust, steel-frame gantry and robotic platform. It is designed for stand-alone use, or for easy integration as part of a process line, where it offers full-depth access for robotic loading. Each machine can use a variety of specialised tools to add bare or insulated wire and extrude a wide range of polymers from Nylon to PEEK and Kydex. It can also pick and place electrical connectors and components. With these diverse capabilities, the CY1000 creates 3D shapes, adds components, and connects them to each together with precision integrated wiring.
The flexibility of the CY1000 is central to its capability to transform productivity. Large components or parts (up to 1m in diameter), or multiple smaller parts, can be formed by moulding, stamping, or other traditional methods before being loaded into the manufacturing cell, which locates the part and adds electrical functions as specified by the designer using a CAD/CAM based on Siemens NX, but with a bespoke motion controller, post-processor, simulator, and other tools.
The CY1000's external dimensions are 2300mm wide x 2170mm long x 2320mm high and its working area is 1000mm in diameter and 300mm in height. The X and Y axes operate at 1m/s, the Z axis at 0.5m/s, and the head and bed axes move at up to 70 revolutions per minute. The machine is controlled via a touch screen and keyboard. In addition to control functions, the screen provides an overview of the manufacturing platform status and performance, and displays productivity and quality data, if this is available.
The CY1000, which is customised for each application, is supplied with polymer and wiring end effectors. The wiring may be bare or insulated copper, up to 3mm in diameter. Conductive ink end effectors will be available later this year.
Q5D's CEO, Steven Bennington, commented: "Almost all wiring harnesses in this $200B+ market are made by hand at present. With the demand for wiring driven by electrification, the internet of things, and net zero, automation is the only way to keep pace."
+++ ends +++
Suggested photo caption: The CY1000 features interchangeable heads for a variety of functions including 5-axis additive manufacturing for wiring and polymers.
NOTE: Exclusive articles and blog posts on wiring automation and additive manufacturing technologies are available on request. Please contact Bob Jones.
About Q5D
Based in Bristol, UK, Q5D manufactures 5-axis CNC additive manufacturing and robotic handling cells. These additive manufacturing machines automate the installation of electrical wiring into products, eliminating the need for wiring harnesses. The processes they deploy reduce cost, weight, and complexity in automotive, aerospace, and consumer products. They boost manufacturing productivity, improve product reliability, and simplify supply chains. For more information visit https://q5d.com/.
Company Contact
Simon Baggott
Chief Marketing Officer
PR Agency Contact
Bob Jones
OriginalityB2B